As I pack our mini-van before leaving for our trip, I find myself asking the familiar questions - Why is there so much stuff? Wonder what I forget this time? How long before the first "are we there yet"? Regardless of the lingering doubts about the packed luggage and the kids' patience, we hit the road right on schedule for our 4.5 hour road trip to Culpepper, VA.
As busy working parents of a 4 year-old, 2 year-old, and a third on the way, our life in Raleigh, NC seems constantly on the go. And even though we love every minute of it, the time had come to get some R&R in the country side.
We travel quite a bit as a family but none of our previous trips involved a stay at a bed and breakfast. In general, that's the kind of reward we like to save for just when Dev and I are traveling! However, something about this rural setting had us convinced that the kids would do well at Walden Hall. But just how well is something we underestimated big time!
Leaving I-95 and entering farm country was somewhat of a shock even to our adult systems. Seeing so much green on rolling hills with cows and horses certainly does something to the mental state of being and all of us were quickly approaching a state of euphoria, the like we hadn't experienced while unloading from a plane for instance.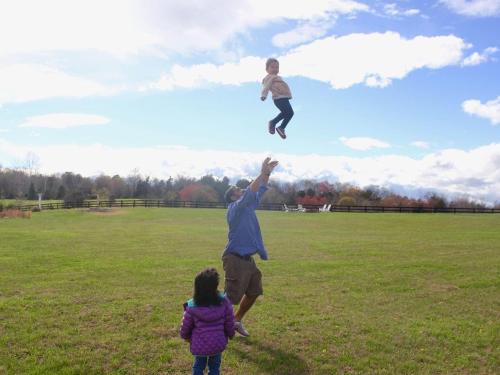 When we finally released the kids from their seats and belts, the first thing they did was run off to see the pond. By the time we checked into the Emerson Pool Suite, It looked like they had already started some kind of game which involved a lot of laughing and running up and down the green grass. It wasn't long before they stumbled on the chicken coop either and let me just say that in their minds it was no less than winning a jackpot!
The three nights and three days that we spent at Walden Hall were packed with a perfect mix of relaxation and adventure. We would start off our day with a cup of coffee in our room as the kids put on their shoes and got ready to make their morning trip to the chicken coop. There they discussed life's important questions with Henry the Rooster and his Icelandic chickens. It was almost impossible to pry them away if it wasn't for their hungry bellies.
Eric and Andy did an amazing job of preparing a truly gourmet breakfast and it was such a treat to eat it in our pajamas without leaving the property. With a good night's sleep and good food in us, we spent the rest of the days exploring various area attractions including Skyline drive in Shenandoah National Park, Luray Caverns, Downtown Culpepper, Monticello, University of Virginia, and Downtown Charlottesville to name a few. While on these drives, we made it a point to stop in the charming small towns we passed, and more often than not we also stopped by the roadside to say hello to the sheep, cows, and horses that were abound everywhere we looked.
After an early dinner, coming home to our room was such a treat since we had a lot of room to spread out. We'd quickly get back in our pajamas and head over to the the game room to spend the last bit of our energy shooting hoops, playing air hokey, arcade games, and watching a movie. The smores kit and the popcorn were like the silver lining in an already perfect setting! Once the kids were ready to crash, it was time for Dev and I to simply open the french doors into our room to the pool area and turn on the fire pit where we sat and patted ourselves on the back for planning such an amazing vacation! The truth about traveling with young kids is that even though it is ALWAYS rewarding, it is still a gamble on how well we as parents, come back rested. This time however it was a win win on all fronts!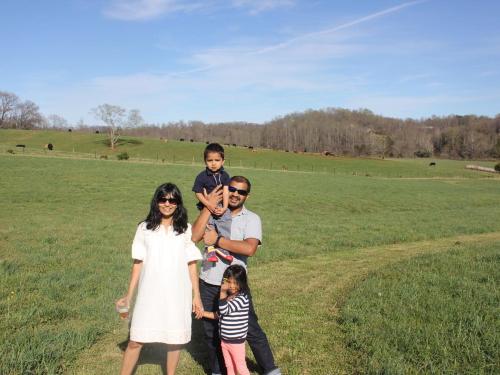 We can't wait to return to Walden Hall in the warmer months when we can use the pool, fish in the pond, and gaze at the stars with a campfire outside! By then our family of four will be a family of five, and I have no doubt that the new member of the family will take a liking to this as well.
Chika Gujarathi is a freelance lifestyle writer based in Raleigh, NC. She writes about travel, food, books, and adventures in motherhood at TheAntibland.com.