When he kneeled in the grass,
Her face said it all
An eternity together?
Until death, they will fall

In love, what luck!
To find another feather
What was one, now a flock
To face stormy weather

Torches flickered and danced
In the fading purple dusk
But no light burned brighter
Than the ring around two hearts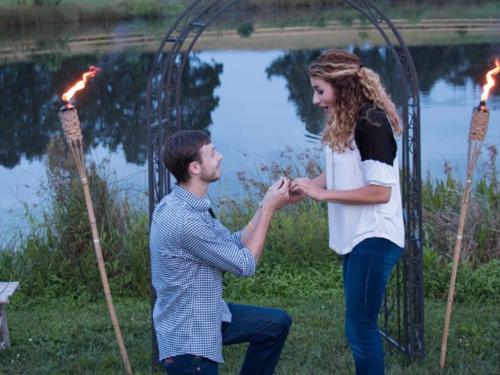 If there's one thing that an engagement needs, it's the element of surprise.
And it's something that Walden Hall's first proposal had in spades. Acacia, the new bride-to-be, had no earthly idea when Garrett got down on one knee and pulled the timeless diamond ring out of his jeans pocket. Eric and Evanne, Walden's Innkeepers, snapped photos to capture the myriad of expressions and emotions that swept across the scene, as this was Garrett's one request – for Walden Hall to make it so this moment could last forever for them.

After tearful embraces and heartfelt congratulations, the pop of the champagne bottles echoed across the grounds. Glasses clinked cheerfully and jokes at Acacia's ignorance of our plan were shared over and over. The night crept across the sky and the lovely couple headed toward their candle-lit suite, taking their first steps toward their future together.
– Allie Haines